«&laquo&nbspBACK
Traditional Shakshuka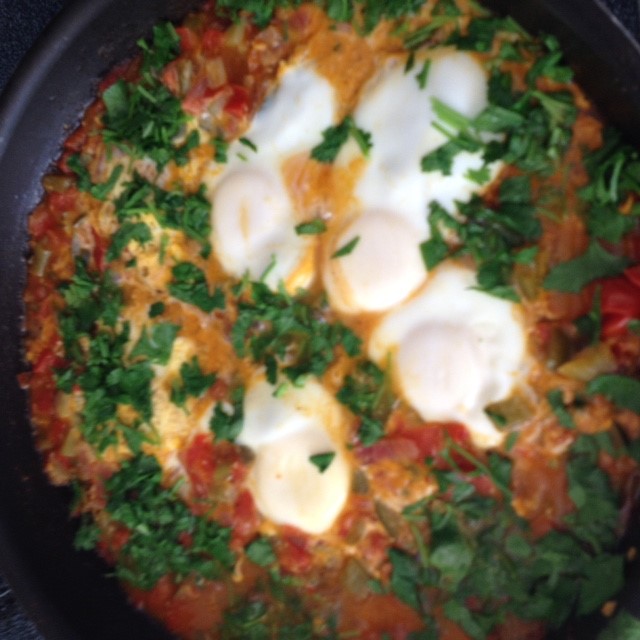 2 weeks ago we had a house guest for a week- my cousin's son Guy, who was on his way back to Israel from 9 months of backpacking all over South America. It was a lovely visit with him, and on his last day he wanted to make us dinner, telling me that he brushed up on his cooking skills while traveling. He made us a mouthwatering, delicious Shakshuka- an egg dish that is usually eaten for breakfast in Israel, but can be served as part of a light supper.
I use to make Shakshuka when I catered for groups on river rafting & camping trips; it's always been a big hit! Now a days, I offer Shakshuka on Oz Catering breakfast menu.
The traditional Shakshuka is basically a tomato based sauce, with sautéed onions, peppers and some chilies. The secret in making a Steller Shakshuka is letting the sauce reduce its volume and concentrate the flavors.
One the sauce is ready you break some eggs into it and let it cook until the eggs are done to the level you like to eat them. If you like to have a bright yellow runny yolk, reduce the time of cooking, if you like your eggs well done like me,you can even poke the yolk and swirl it a bit so it would cook trough.
You want to serve Shakshuka with soft bread that you can dip into the sauce. Guy made an upgraded version, adding small diced eggplant and some sliced white mushrooms to his Shakshuka and I thought it was better than the traditional version known to me.
It's a gluten /dairy free healthy and cost effective dish, what else can we ask for? So here is the basic recipe with optional additions. You can make it as spicy as you like by adding/ subtracting the amount of chills.
TRADITIONAL SHAKSHUKA
Ingredients
2 tbsp olive oil- Heat in a large sauté pan
1 yellow or red onion peeled and diced- Add to oil, saute` on med high heat for 2-3 minutes
2 clove garlic, minced – Add
1 jalapeno seeds & vane discarded, chopped fine
1 each medium green & red bell pepper, diced fairly small- Add to the pan and saute1 for another 4 minutes approximately, reducing the heat if neededso the vegetables won't burn
2 tbsp. tomato paste- Add with all spices bellow, stir for a minute
1 tsp chili powder (mild)
1 tbsp. cumin
1tsp cinnamon
1 tsp paprika
Pinch of cayenne pepper (or more to taste– spicy!)
1 tsp of sugar – It brings out the flavors
Salt and pepper to taste
4 cups ripe diced tomatoes, or 2 cans (14 oz. each) diced tomatoes- Add, bring to a boil then reduce heat and cook, stirring occasionally for 40 minutes. Add water if it gets too thick. The sauce needs to be substantial, like a watered down soup that has lots of content but still retains some liquids.
Add a little water and adjust flavors as needed. The sauce should have a kick to it and a small amount of liquid.
6-8 eggs – Break the eggs into the sauce and cook for the desired level of doneness.
1/2 tbsp. fresh chopped parsley or cilantro, optional for garnish
Serve with soft white bread. Challah bread is perfect for dipping ….
Variations that you can add after the onions: Fine diced eggplant/ zucchini. Sliced mushrooms. Spinach (that you'd add at the end before adding the eggs. You can use Anaheim pepper instead of the green bell pepper but be careful; it will add some heat to the dish.
As I always say, be creative and enjoy!