«&laquo&nbspBACK
Last post from my Israel series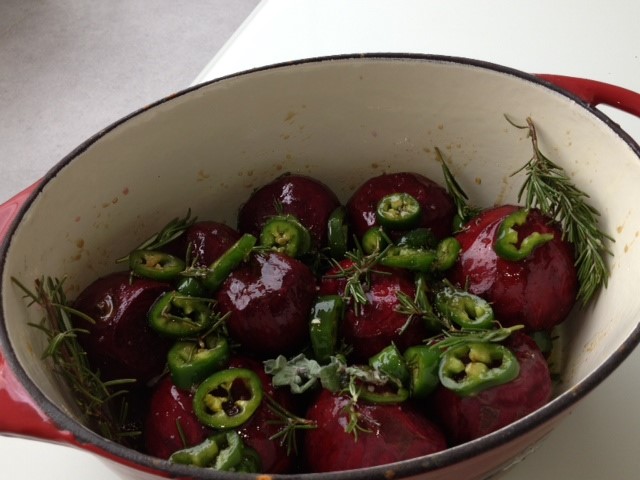 What I remember most from my years of growing up, is the time I hang out in the kitchen with my mom. First as a very young child my mom would give me few bowls, one filled with assorted dry beans, and the other ones empty, into which I could transfer the beans sorting them by sizes/color…. This kept me occupied while my mom cooked for the guests who stayed at my parent's bed & breakfast.
When I grew a little older, my mother started teaching me the art of cooking. She was a very good home cook, and all 4 of us sisters became skilled in the kitchen. I enjoy all of my three sister's cooking, each has her own style.
On my visit, I had the pleasure of cooking with my sister Ofra for a family dinner she was hosting at her home.
One of the dishes that were my favorites was roasted beets that had a little twist.
It's a very easy to make dish, very little time consuming and will win compliments from all you beet loving friends.
ROASTED BEETS
(Serves 4)

Ingredients
10-12 small beets, washed and peeled
1/3 cup olive oil
2 Tbs honey
2 sprigs rosemary
A splash of balsamic vinegar
Sea salt
1 chili pepper (I used Jalapeño)-sliced seeds included
Preparation
Rub beets in the rest of the ingredients. Bake at 350 in a Dutch oven for an hour and a half or until tender. If you don't have a Dutch oven, you can bake it in a casserole dish, closed tightly with foil.
It can be served warm or at room temperature.